When it comes to managing property bookings on platforms like Airbnb, the cancellation policy you choose can play a pivotal role. With the rise in travel and accommodations, many hosts have questioned how different policies impact their overall bookings and key funnel metrics. To provide clarity, we've dived deep into this topic, analyzing over 5,000 properties. Here's what we found.
PSSSSST! Would you rather watch the video breakdown of this study? Click HERE to watch the short analysis on Youtube.
Overview of Cancellation Policies
For those unfamiliar, there's a range of cancellation policies available for hosts, moving from the most flexible to the least. The main five are:
Flexible
Guests can get a full refund if they cancel at least 24 hours before check-in. If canceled less than 24 hours before, guests pay for each stayed night and an additional night. For post-arrival cancellations, they get refunded for any remaining nights.
Moderate
Guests can get a full refund if they cancel at least 5 days before check-in. Within 5 days, they forfeit the first night and service fee and get only 50% of the booking fees. For post-check-in cancellations, they receive 50% of the fees for the remaining nights but pay for nights spent.
Firm
For a full refund, guests must cancel at least 30 days prior to check-in. They receive 50% back if canceled between 7 and 30 days before. Less than seven days before, hosts receive payment for all booked nights. Additionally, guests get a full refund if they cancel within 48 hours of reservation, provided it's 14 days prior to check-in.
Strict
Guests get a full refund if they cancel within 48 hours of booking and at least 14 days before check-in. After 48 hours, they receive only 50% back. If canceled between 7 and 14 days before booking starts, they get 50% of accommodation fees and a cleaning fee refund. Less than 7 days, no refund.
Super Strict 30 Days
Invitation-only for experienced hosts. 50% refund for cancellations at least 30 days prior to check-in. No refunds for cancellations within 30 days or after check-in.
As a host, you can choose which policy suits you best, depending on your availability, demand, and risk tolerance. A flexible policy might attract more guests who like to have options and peace of mind, but it also means you might face more cancellations and uncertainty.
A strict policy might scare away some guests who are not sure about their plans, but it also means you have more security and control over your calendar.
IntelliHost's Analysis
Average Daily Impressions
This metric represents the number of times a property appears in search results, regardless of its page ranking. Interestingly, all policies had consistent impressions until the super strict 30. This particular policy saw a noticeable drop. It's unclear if platforms like Airbnb are penalizing such stringent policies, but it's something hosts should be aware of.
First Page Impression Rate
A more nuanced metric, this indicates the frequency a property appears on the first page of search results. As policies become stricter, the first-page impression rate slightly decreases. For example, the most flexible policy boasts a rate of around 47-48%, while the least flexible dips to about 43%. While the change isn't monumental, it's a trend worth noting.
Click Rate
An intriguing pattern emerges when we observe click rates. Generally, there seems to be an inverse relationship with first-page impressions. As properties get more first-page appearances, they tend to receive a smaller percentage of clicks.
Conversion Rate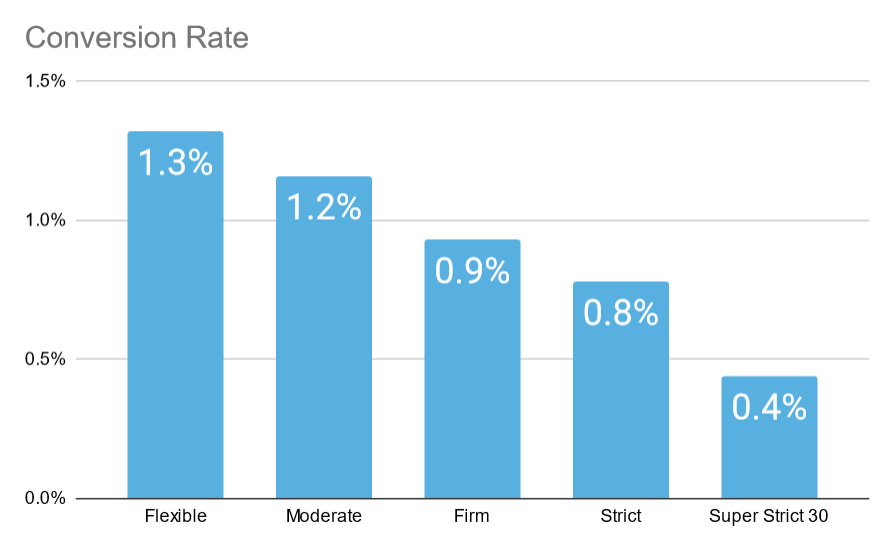 The data speaks volumes here. When comparing the most flexible to the super strict policy, the conversion rates are staggeringly different. Properties under a flexible policy experience a conversion rate of 1.3%. In stark contrast, the super strict 30 policy witnesses a mere 0.4% conversion rate. That's a threefold difference!
What do these results mean for you?
For hosts aiming to maximize their bookings, these findings are crucial. If conversion is a problem, reconsidering the cancellation policy might be the first step to remedying that. For instance, moving from a super strict 30 policy to just a strict policy could potentially double the conversion rate!
Want To Optimize Your Airbnb Listing?
Want to make the most out of your Airbnb property? Give IntelliHost a try. We offer easy-to-understand insights, smart analysis, and handy optimization tips specifically for short-term rentals like yours.
It's a tool tailored to helping you boost your property's visibility, ramp up your guests' satisfaction, and yep, you guessed it, increase your earnings. So, why not see how IntelliHost can make a difference for you? Start your free 30-day trial today and start getting more bookings!