Airbnb's recent Winter Release, announced by CEO Brian Chesky, has introduced an exciting feature for hosts and guests alike: the "Guest Favorites" badge. This new accolade has quickly become a hot topic among the Airbnb community, sparking discussions and speculations about its impact. At IntelliHost, we're diving into this development, keen to uncover how it might affect your listings and what strategies you can employ to adapt to this change.
What is the "Guest Favorites" Badge?
Airbnb's "Guest Favorites" badge is a special recognition given to approximately 2 million of the most-loved homes among Airbnb's 7 million listings. This group is selected based on:
Exceptional Reviews: Homes must average above 4.9 stars and receive high marks in key areas like check-in, cleanliness, accuracy, host communication, location, and value.
Outstanding Reliability: These homes have an impressive track record of minimal host cancellations and very few quality-related customer service issues, averaging around 1%.
How The Badge May Influence Bookings
While we don't have enough data to say for certain how these badges may affect listings and their booking funnels (though it will be coming soon), we do have the following potential impacts:
Enhanced Visibility: Listings adorned with this badge are likely to catch a guest's eye quicker. The badge serves as a marker of trust and quality, potentially increasing the listing's attractiveness and booking rates.
Global Recognition: The badge isn't limited to a particular region or type of listing. It spans across Airbnb's global network, highlighting the best in various categories and locations, from cozy city apartments to tranquil countryside retreats.
Easy Identification: Guests can easily spot these top-tier listings as the badge is prominently displayed in search results and on the listing page. This simplifies the search process for guests aiming for high-quality stays.
They Already Had Superhost… How is This Different?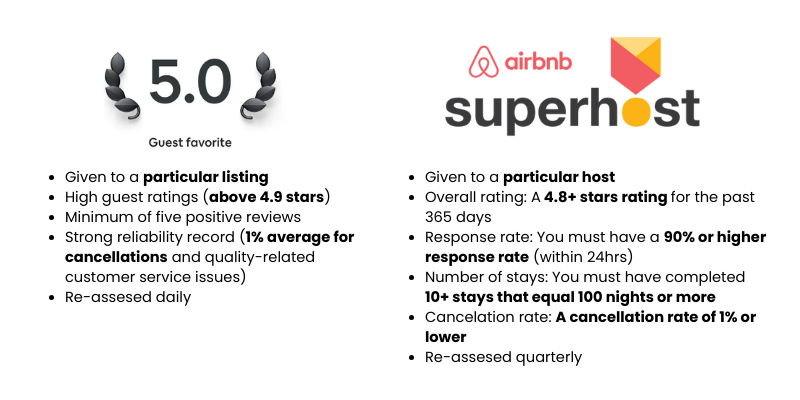 So Who Seems To Be Getting The Badge So Far?
Our current analysis reveals that earning this badge is quite attainable. In fact, over 35% of IntelliHost listings currently have it. So this seems to be much easier to achieve than becoming a Superhost.
The Real Deal Behind Airbnb's "Guest Favorites" Badge
So, what's the bottom line with Airbnb rolling out this "Guest Favorites" badge? It's pretty clear: Airbnb is upping the game in terms of what guests can expect from their stays. This badge isn't just a pat on the back for hosts; it's a clear signal to guests about where they can find top-notch stays.
We think Airbnb is doing this to make sure guests have consistently great experiences, and to make it easier for them to pick the best spots. For hosts, it's a nudge to keep raising the bar.
At IntelliHost, we're all about helping you get there, understanding these changes, and using them to your advantage. This badge could be a game-changer, and we're here to decode how it works and how you can make the most of it.
What's Next?
The full impact of this badge is still unfolding. As IntelliHost gathers more data, we'll provide insights on whether it significantly boosts visibility and bookings.
Hungry for More Insights?
For more myth-busting and helpful Airbnb hosting tips, consider subscribing to IntelliHost's YouTube channel HERE or following us on Instagram HERE.