1. Wrong Cover Photo
Your cover photo is the most important image, and is the first thing guests notice when searching for their next stay. In most cases, using a clearly-lit and attractive gathering area as a main photo works best.
This heavily depends on the area, for example, beach-front properties may book better with beach imagery and or special amenities that are in high demand. But as a general rule of thumb for most vacation rentals, an attractive gathering area image performs best.
2. Additional Guest Fees
Charging more per additional guest surprises and turns off travelers at rates you wouldn't believe. One IntelliHost user increased their click to book rate by 457% simply by removing additional guest fees.
3. Unprofessional Pictures
Our numbers show that listings with professional pictures make 81% MORE REVENUE on average than listings that do not have professional photos.
Here are a few tips for finding a professional photographer:
Ask around . If you know anyone in the short term rental or hospitality industry, they might be able to recommend a good photographer.
Check online directories . There are several online directories (like Thumbtack or Craigslist) where you can find photographers in your area.
Do a Google search . A simple Google search for "real estate photographers in [your city]" should turn up several options for you to choose from.
Ask for samples . Once you've found a few photographers you're interested in working with, be sure to ask for samples of their work before making your final decision.
4. Mandatory Pre-Booking Message at Checkout
Requiring guests to message the host before booking is one of the biggest obstacles to your listing success. This step does very little, if anything to ACTUALLY vet the individuals, and just adds time and effort to a process that should be effortless to your potential guests.
IntelliHost data shows a strong correlation between removal of the Pre-booking message, and the improvement of click-to-book rates
To remove the messages before checkout, perform the following steps:
Go to your listing dashboard
Navigate to "Policies and Rules."
Choose "Instant Book"
Toggle off "Pre Booking Message."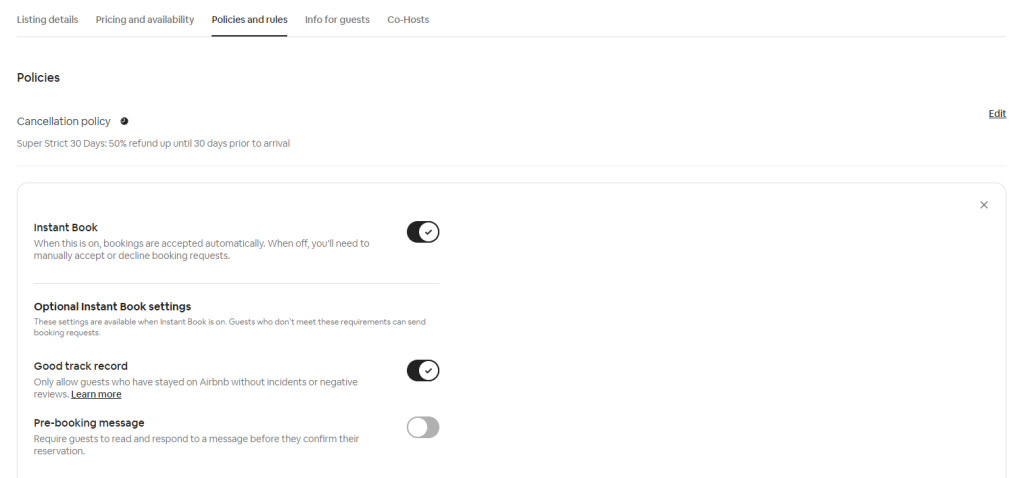 5. Steep Supplementary Fees (like cleaning)
Guests, like you, probably don't want to pay a cleaning fee that rivals (or is sometimes greater than) the cost of their stay. If they are paying $300 total for a three night stay in an apartment, then see a 385$ cleaning fee, they have the right to be concerned, and they will likely look at other options instead.
Our studies show that excessive cleaning fees absolutely destroy host click-to-book rates, and when hosts instead cut their cleaning fees down substantially (and bake some of it into the overall nightly rate to still have a good overall cleaner fee), their click to book rates improve dramatically.
6. Bonus Point: Not Using IntelliHost To Optimize Their Listings and Get More Bookings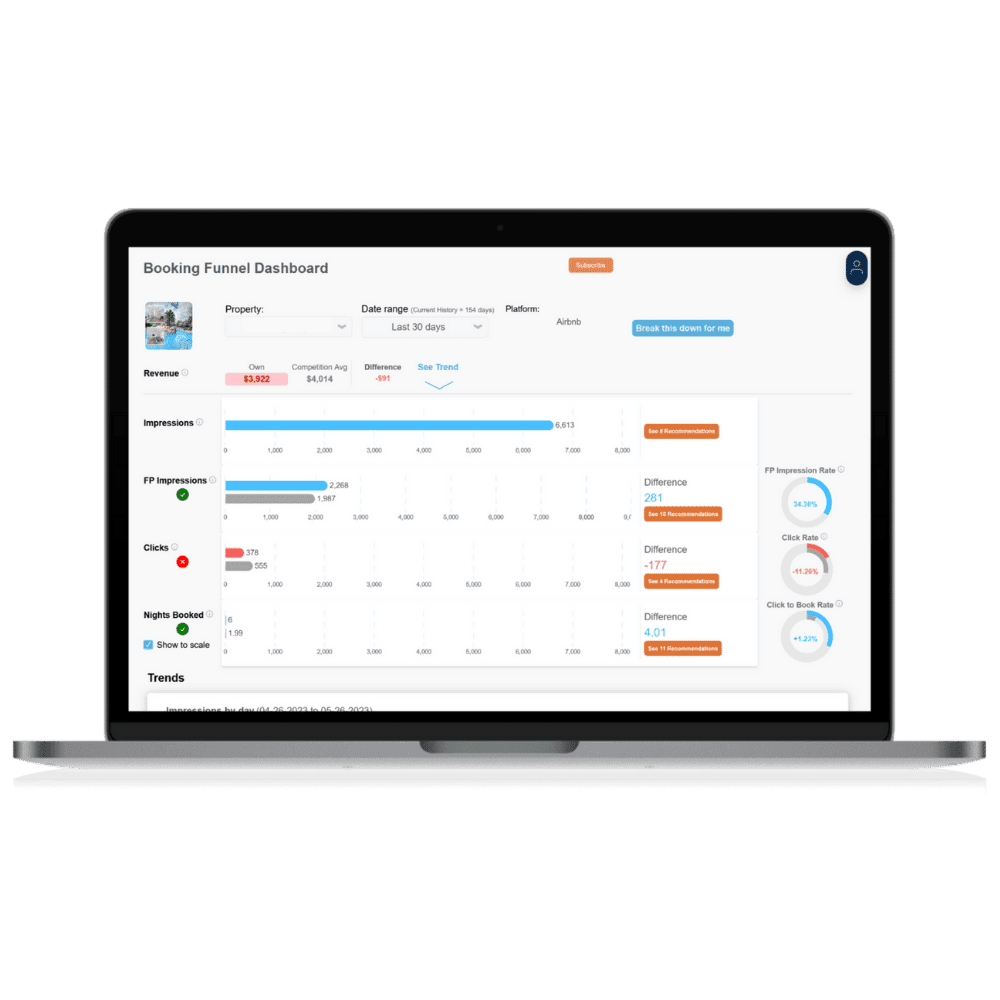 IntelliHost is an Airbnb listing optimization software that analyzes your source data, and gives you data-driven recommendations to improve and make more revenue.
Automatic Change Tracker: Ever wondered how your listing tweaks impact your bookings? With IntelliHost's change tracker, monitor the real-time effects of every adjustment you make. No more second-guessing. Immediately see what works and what doesn't, allowing for quick refinements to maximize results..
Data-Driven Decisions: With IntelliHost, you gain access to in-depth analytics that reveal hidden aspects of your listing's performance. Recognize patterns, understand guest behaviors, and identify bottlenecks.
Actionable Recommendations: Rather than wandering in the dark, get tailored suggestions for improvements. Whether it's image placement, pricing strategies, or setting changes, IntelliHost guides you step-by-step.
Stay Updated: The world of Airbnb is ever-evolving. What worked yesterday might not work tomorrow. With IntelliHost, benefit from continuous updates based on market trends and guest preferences. You're not just adapting; you're staying ahead.
Ready to see how IntelliHost can revolutionize your Airbnb listing? Don't just take our word for it. Experience the transformative power firsthand with our FREE 30-day trial. No obligations, no credit card, just pure insights. Dive in, optimize, and watch your bookings soar! Start Your Free Trial Today!