As an Airbnb owner, you know that the more nights your guests stay, the more money you make. But did you know that having a two night minimum could actually increase your listing's occupancy rate, and even boost your profit by 41%?
That's right, according to our data (IntelliHost), setting a two night minimum has been shown to increase your occupancy rate 7% more than a three night minimum, 12% more than a four night minimum, 33% more than a five night minimum, and 41% more than a six night minimum. But why is this? Let's take a look at the numbers and find out.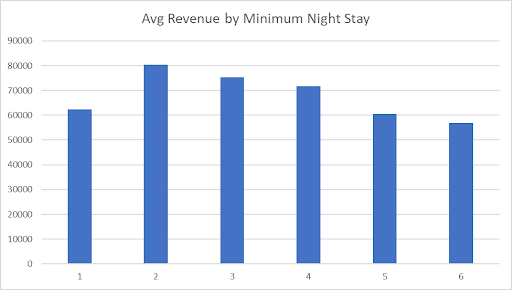 Optimizing Your Searches
When someone searches for an Airbnb, they usually put in their dates of travel and desired number of nights. The results are based on these criteria – if someone is looking for three days and your property requires four nights or more, then your property won't even appear in the search results. This means that you're already missing out on potential profits before anyone has even seen your listing!
In contrast, if you have two night stays available, then your property will show up when someone searches for any window of two or more days – including those pesky three day windows we talked about earlier! This means that by having a two-night stay as an option, you can reach far more people – and potentially make far more money.
Maximize Your Proft
Setting lower nightly minimums may seem counterintuitive at first glance – but the numbers don't lie! If you want to maximize your profits as an Airbnb owner, keeping the minimum nights down to two or below is key.
By doing so, you can get your listings seen by far more people – giving yourself an edge over other properties with higher nightly minimum and ensuring steady business throughout the year.
Hungry for More Insights?
For more myth-busting and invaluable Airbnb hosting tips, consider subscribing to our YouTube channel HERE or following us on Instagram HERE.
If you're a host or property manager who wants to optimize your listings on Airbnb, then you might want to know about IntelliHost's 30-day free trial (no credit card required). With IntelliHost you get all the needed metrics and data for improving your listings, and making educated changes that actually improve your revenue.